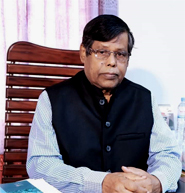 Serajul Islam
Introduction and Education: Mr. Serajul Islam, the present Chief Executive Officer of PROSHIKA Human Development Centre, one of the renowned and established non-government development organizations. He has been performing this duty since 2014 with great efficiency, sincerity and integrity. He was born on July 7, 1953 at Dhamrai in Dhaka District. He is the youngest child of his father late Faizuddin and mother late Karimunnessa. He completed his SSC in 1969 from Mahishloha Jabbaria Bahumukhi High School of Saturia in Manikganj District and H.S.C. in 1972 from Devendra Mahavidyalaya, Manikganj and obtained his BSc Honors degree in Mathematics from Jahangirnagar University.

Having a strong interest in the social constructive activities of Mr. Islam since his childhood, he completed a course on Socialism/Marxism from the University Indian Social Institute (ISI), Bangalore, India, before completing his MSc degree. After returning in the country, he formed a youth organization called Mitali Sangsad at his village in 1973 for rebuilding the war-torn Bangladesh. This organization is still involved in various social activities. Presently, Mr. Islam is the President of Mitali Sangsad'.

Career: In 1975, he joined an international organization called Canadian University Services Overseas (CUSO) as a paid volunteer. The organization used to work with the youth community of Bangladesh in alleviating the poverty of the poor marginal farmers in the remote areas of post-war devastated Bangladesh and improving their fortunes. But the development of landless marginal people, poverty alleviation of poor men and women, their empowerment, organizing the poor people of the country, including the remote areas of the country to raise wages, lending, interest in savings, increasing the accessibility of the landless to khas land, roadside forestry, education, health, women development and empowerment, implementation of the spirit of liberation war and it became necessary to form a national independent agency to work on a wider scale to generate employment through income generation programs for the poor. In this continuation, with the help of Mr. Islam and some other young people, a organization called PROSHIKA Human Development Centre was established. For this, a few acres of land was purchased at Koitta in Manikganj District. However, since PROSHIKA was not yet registered, registration of land of PROSHIKA was done in the name of Mr. Islam, general secretary of Mitali Sangsad and present Chief Executive of PROSHIKA. The said land was handed over to PROSHIKA in October 1976 after obtaining the registration of PROSHIKA. Later, with the efforts of Mr. Serajul Islam and some other young people, PROSHIKA Human Development Center gained a wide reputation in the country and abroad. However, since 2009, the organization has almost collapsed due to internal conflicts. At some point, almost all of its operations have been stopped. Many workers were laid off and workers became depressed after years without work and pay. In such a situation, they felt the need for the cooperation of Mr. Serajul Islam and some other workers of his contemporaries and remembered them.

Taking over as Chief Executive: Mr. Serajul Islam, along with some of his contemporaries and colleagues, took the sinking ship called PROSHIKA and started the journey of the development after receiving the responsibility as the Chief Executive from 2014. Completely, on his own fund and without the financial support of any domestic or foreign donor organization, through his skills and single-minded efforts as a development worker, capable leadership, dedication and integrity, he re-established PROSHIKA Human Development Centre as a renowned non-government organization in the country and abroad today. At present, PROSHIKA has around 400 branch offices and around 3,000 staff all over the country. Own fund is about 1,400 crores. In addition to the small economic activities in PROSHIKA, he has implemented a number of social programs such as women empowerment and development programs, drug prevention and awareness programs, development programs for disabled people, health related programs, mass culture programs, research, disaster management programs, social forestry programs and various programs are being conducted for the development of agriculture.

Social activities: From his young age, he was active in the cause of social development and positive change in the society as well as the country. For that purpose, he established the youth organization 'Mitali Sangsad' at his village and he is, also one of the founders of the Center for Disability in Development (CDD) for the development of the disable people in the country. Presently, he is the treasurer of this organization. He established another social organization in his village called 'Nagrik Samaj' whose motto is "Green Saver, Clean Server". Currently, he is the Vice President of this organization. He has also served as the president of Mahishloha Jabbaria Multipurpose High School for several years.

Others: He also played a significant role in writing. Among the books written by him in the context of the development of the poor in the country, 'Unnayan Kormir Dristite Bangladesh', 'Prantojoner Jiban Jibika', 'Sushasan Nirbasan' etc. are notable. He was also a national columnist. He once used to write regular columns in several national newspapers of the country.